Come join the Circle  with YOUR unique Goddess energy and discover paradise inspired by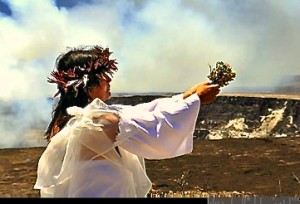 the introduction of the female deities like PELE – HI'IAKA – POLIAHU – LAKA and many more of the Polynesian Mythology and shared by a Hawaiian Kahuna – Wisdom Keeper. We will celebrate ourwomoonhood with the Beauty & Bounty of the Island, it is so easy here within these strong and gentle forces of the elements, always present. Starting on the westside of the Island we will swim a lot and visit temples and National Parks, honor PELE, the Volcano Goddess of this very island: Hawai'i and continue the last part of the Journey on the eastside to maybe see her new creations of Land, Lava flowing thru the night  and under the stars. I welcome you to this very special Circle – show us your Goddess energy and discover new ones that you might wanna embody too –   ALOHA!
November 15 – 27 2014 with all Accommodations $ 2'700.00 – for detailed Retreat Info send me your Contact, mahalo, thank you.